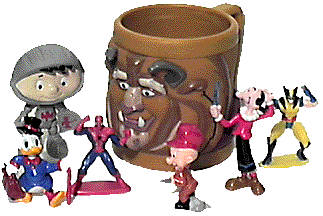 Custom Toys, Electronics, Plush & Figurines: We design and manufacture custom and highly decorated items in our good, clean and reliable overseas factories (located in China, Korea, Indonesia, Thailand, Vietnam, etc.). Some of these items include Figurines, Mugs and Bowls, Plush Toys & Dolls (including electronics), Sewn Items (like Pencil Cases, Backpacks, Halloween Costumes, etc.), Inflatables, and Electronic Items. We visit our factories on a regular basis, and have good and long-term relationships with the principals and staff. Our factories are accustom to supplying products that must adhere to the U.S. "FDA", CPSC and CPSIA child-safety guidelines.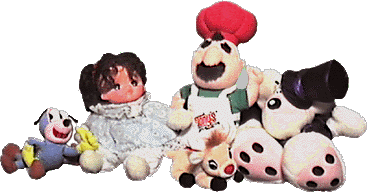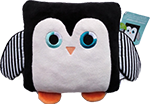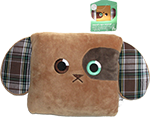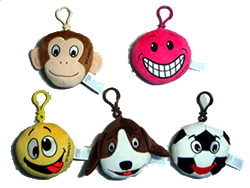 Custom Plush Toy Manufacturer, Dolls, Plushies & Pillows. Logo characters make great premiums, and builds product and character recognition. RB Toy can help you develop your 2D character and package artwork into a child-safe 3-Dimensional plush toy. We can even add electronics for speech, music or sound effects. We also manufacture custom Plush Toys and Items for retail and online sales, including custom packaging and displays. Click here to see our other Plush promotions.
Custom Melamine Tableware is available in individual pieces and sets. You can choose from more than a 100 standard Plate, Bowl, Cup, Mug, Tray and Eating Utensil (knife fork and spoon) designs for both adults and children, or we can design them in any custom shape (like a logo or character's head). Each piece can be decorated with a custom full color image, as shown above. This tuff and child-safe Tableware in made in Thailand in one of the largest and most modern facilities in the world, and meets all "CPSC" and "CPSIA" guidelines.

Decorated Items & Dolls
The logos and licensed characters shown are the property of the respective companies.

RB Toy Design, Inc., 3838 Chester Drive, Glenview, IL 60026 USA
TEL: 847-577-5683 • FAX: 847-272-4034 • E-mail: premiums@rbtoydesign.com
Send mail to webmaster@rbtoy.com with questions or comments about this web site.
Copyright � 1997, 1998 & 2009 RB Toy Design, Inc., All Rights Reserved
Last modified: August 06, 2019