CUSTOM KITES - We manufacture two styles of kites, the Giant size, mostly used as a Self-Liquidator, and the smaller Free Give-a-way Sail Kite. Each style is all plastic, and available in up to six printed colors (plus the white background color). The Giant Kite comes in a sturdy mailer, and the Sail Kite in a printed polybag. The Giant Kites measure 44-3/4" H x 38-3/4" W, and the Sail Kite 18-1/4" H x 19-3/8" W when assembled. Giant Kites cost in the range of $5.00 in quantities of 30K, and Sail Kites around $1.00 in quantities of 100K.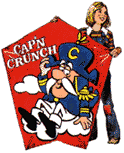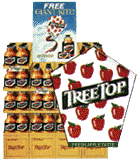 Kite Premiums and Premium Kites
The logos and trademarks shown are the property of the respective companies.
� 1997 & 2009 RB Toy Design, Inc., All Rights Reserved

RB Toy Design, Inc., 3838 Chester Drive, Glenview, IL 60026 USA
TEL: 847-577-5683 • FAX: 847-577-5683 • E-mail: kites@rbtoydesign.com
Send mail to webmaster@rbtoy.com with questions or comments about this web site.
Copyright � 1997 & 2009, RB Toy Design, Inc., All Rights Reserved
Last modified: October 02, 2023