Some Of Our Printed Creations!
Beautiful custom Stickers, printed on all different types of materials. Some even Glow-In-The-Dark like our Switchplate stickers, made with non-marring removable adhesive.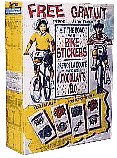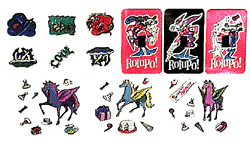 MAGIC MEMO PADSTM - Custom printed wax coated tablets can be made to write in any color. Just lift the plastic cover sheet to erase. Available with safe plastic stylus, or use any pencil.

Click here for a closer look at the Clifford(R) Magic Memo Pad™
HOT STICKERTM - Custom printed adhesive paper or plastic "static cling" stickers, printed with regular and Thermo-Chromatic temperature changing inks. These stickers can be used for Fun character prints for children, or with SAFETY messages such as a the word "HOT" that appears when it is affixed to a oven or toaster door, or coffee pot, that has reached a skin-burning temperature. Made in USA.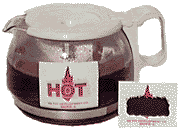 USES: Can be used as In-Packs, On-Packs, Near-Packs, Self-Liquidators, or Free Mail-Ins.

Custom Printed Premiums
The logos and tradenames shown above are the property of the respective companies.
Magic Memo Pad is a trademark of RB Toy Design, Inc.
Hot Sticker is a trademark of RB Toy Design, Inc.

RB Toy Design, Inc., 3838 Chester Drive, Glenview, IL 60026 USA
TEL: 847-577-5683 • FAX: 847-577-5683 • E-mail: premiums@rbtoydesign.com
Send mail to webmaster@rbtoy.com with questions or comments about this web site.
Copyright 1997 & 2009, RB Toy Design, Inc., All Rights Reserved
Last modified: October 02, 2023