COMPUTER SOFTWARE - Educational and/or Fun software, presented on Floppy Disks, CD-Roms and Internet "Down-loadables". Programs available include Greeting Card Maker, T-Shirt Maker, Sticker Maker, Storybook Maker, Activity Packs, and many more. All programs are customized with logo character artwork. Programs include FREE customer 'phone support (Telephone Help-line), and on-line help. Samples available upon request. Custom Computer Games also available with logo character graphics. Made in USA.
USES: In-packs, On-packs, Near-packs, Self-Liquidators, Free Mail-ins or "Down-loadables" from your Internet Web Site. Price range $0.15 to $4.00.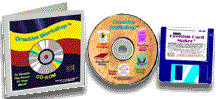 CREATIVE WORKSHOP(TM) - Our newest addition is a CD-Rom containing 5 fun-packed and creative computer programs, designed for the whole family. It includes T-Shirt Designer, Greeting Card Maker, Certificate Maker, Fun Fonts, and WizKid Painter (a 6 program activity pack for kids). These easy to use programs are designed to run on any standard PC running Windows XT+ (sorry, not on Macs). All programs on the CD include FREE customer 'phone support (Telephone Help-line) from Monotype, a leader in the software industry, as well as on-line help. This stock CD can be printed with a custom label including a company logo or character. Pricing based on quantity, packaging and labeling requirements. Contact us for information.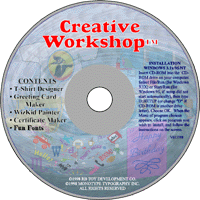 Computer Software Premiums
Logos and tradenames shown are the property of the respective companies. Creative Workshop is a trademark of RB Toy Design, Inc. Software titles shown above are trademarks and the property of Monotype Typography, Inc. All rights reserved.

RB Toy Design, Inc., 3838 Chester Drive, Glenview, IL 60026 USA
TEL: 847-577-5683 • FAX: 847-272-4034 • E-mail: software@rbtoydesign.com
Send mail to webmaster@rbtoy.com with questions or comments about this web site.
Copyright 1997 & 2009 RB Toy Design, Inc., All Rights Reserved
Last modified: November 04, 2015