Design & Manufacturing
Overview:
RB Toy Design, Inc. provides a 1-stop turnkey solution to Product Design and Toy Design (incorporating 3D CAD Design), Rapid Prototyping (RP), 3D Printing and Additive Manufacturing (AM), Toy Manufacturing and Consumer Products Manufacturing (domestic and overseas), Toy Safety and Child Safety Testing, Packaging and Importing services.
Using the latest in 3D computer design and analysis software (CAD/CAE), RB Toy... can create detailed 3D Solid Models (SolidWorks - Manufacturing Network Partner), Mechanical Drawings, Animations and Photo-realistic Graphics for Visualization and Presentation. Using this same computer data, we can produce "tool-less" Rapid Prototype (RP) Models, 3D Printing (SLA, SLS, FDM, OBJET, etc.) and Additive Manufacturing (AM), in various plastic materials, for Sales Presentations, Product and Safety evaluations or a small quantity of finished parts. These concurrent engineering techniques allow all departments of a project team, from Engineering and Manufacturing to Marketing, to address their respective issues at the same time, thus reducing the "time to market".
We can work with you from your initial concepts, preliminary sketches and design objectives to help define your new product in the terms of making it "manufacturing friendly". We can take your designs and functionally test them in our 3D CAD systems (SolidWorks), to determine the most economical way of producing the finished product. The 3D Solid Model CAD data can be easily converted into physical plastic models using the latest Rapid Prototyping (RP), 3D Printing and Additive Manufacturing (AM) technologies, for initial functionality testing, product safety evaluations or initial product test marketing. The 3D CAD data generated can also be used to create detailed Mechanical or Patent Drawings. This approach can reduce your time to market, and discover cost cutting opportunities without the expensive trial and error methods previously used.
RB Toy Design, Inc. also supplies these same Toy Design, Product Design and Manufacturing services to other companies on a consulting basis. We can act as your product design team, and even manufacture the item for you, or help you source it Domestically or Overseas. We provide full Design, Toy Manufacturing and Safety Consulting Services, including ASTM F963-17, CPSC & CPSIA and the European EN-71 Child-Safety requirements. Click here for more information on our Consulting and Expert Witness Services.
See our "News" section for the latest projects.
The following shows the actual elements we used to produce the child-safe Frozen Pop Maker premium, which was used on the General Mills soft drink product "Squeezit":
.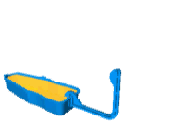 Mechanical Drawing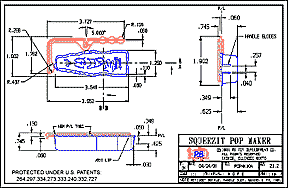 3D Wireframe Model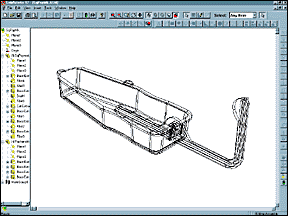 3D Solid Model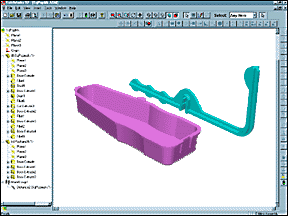 Finished Product

| | | | |
| --- | --- | --- | --- |
| Member of Society of Manufacturing Engineers (SME), Society of Plastic Engineers (SPE) and SolidWorks Manufacturing Network Partner. | | | |
Squeezit is a registered trademark of General Mills, Inc.

RB Toy Design, Inc., 3838 Chester Drive, Glenview, IL 60026 USA
TEL: 847-577-5683 • FAX: 847-272-4034 • E-mail: design@rbtoydesign.com
Send mail to webmaster@rbtoy.com with questions or comments about this web site.
Copyright 1997 - 2022, RB Toy Design, Inc., All Rights Reserved
Last modified: January 10, 2022