Custom made Stick Chewing Gum, Gumballs (printed and plain), Hard and Jelly Candy, Suckers, Lollipops, Popping Candy, Gummy's and Candy Bars with custom printed wrappers and labels. We can match any Flavor, Color and Packaging requirements. Choice of Artificial or Natural Flavors and Colors, and Regular or Eco-Friendly Packaging. Certain minimums apply. All our products are manufactured under stringent U.S. F.D.A. and U.S.D.A. guidelines, in both our domestic and overseas factories.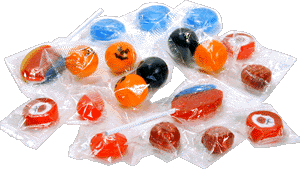 We also Design and Manufacture custom Candy Dispensers, Click Here for more information.
See a few examples of our special projects below:

CHEWING GUM - Can be made in any custom flavor and custom printed wrapper. The Chewing Gum shown below was used as an In-pack premium for General Mills, and was flavored to match the Cinnamon and Sour Apple tastes of their cereal products.

MOLDED SUCKERS - Custom candy suckers and lollipops, molded in any shape to resemble a Character, Product or Logo. These suckers can have either custom printed Wrappers or Labels, or even be printed with a full-color (4-color process) edible image right on the sucker (like the Utah Jazz suckers shown below). Even custom lollipops with raised and imprinted logos, like the 5/3 Bank sucker shown below.
USES: In-Packs, On-Packs, Near-Packs, Self-Liquidators, Free Mail-Ins, Giveaways, Fund-Raisers or Retail sales.

CUSTOM PACKAGE - Custom packaging for Candy or Gum adds "class" to any promotion. The packaging can be a custom printed polybag or cardboard box, or a labeled thermoformed or injection molded plastic container.

We also Design and Manufacture custom Candy Dispensers, Click Here for more information.
PHARMA AD SUCKERS - RB Toy manufactured these custom "bubble-gum" flavored candy suckers as part of a pharmaceutical roll-out campaign aimed at a pleasant tasting medication for children. These Suckers were handed out at doctors offices prescribing the medication as part of their patient education program, to show children how pleasing the medication would taste.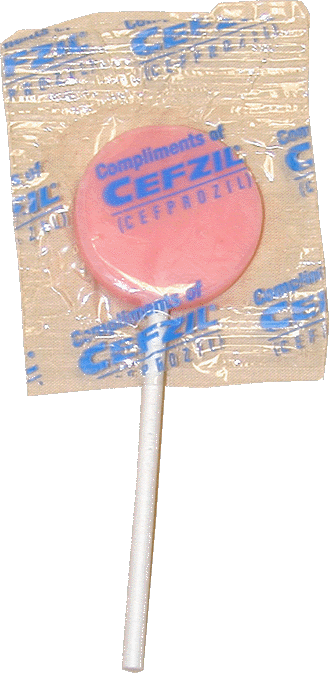 Gum and Candy
CALL 847-577-5683 For Immediate Assistance, or Submit The Request Form Below
The logos and tradenames shown above are the property of the respective companies.
(C)1997 & 2009 RB Toy Design, Inc., All Rights Reserved

RB Toy Design, Inc., 3838 Chester Drive, Glenview, IL 60026 USA
TEL: 847-577-5683 • FAX: 847-272-4034 • E-mail: Candy@rbtoydesign.com
Send mail to webmaster@rbtoy.com with questions or comments about this web site.
Copyright 1997 & 2009 RB Toy Design, Inc., All Rights Reserved
Last modified: January 23, 2019