Custom Scale Model Airplanes: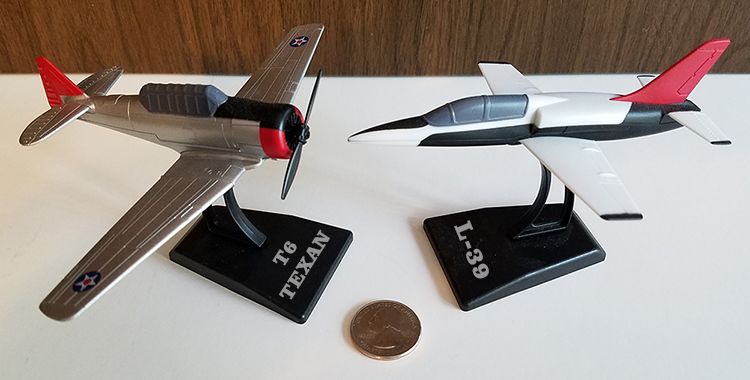 RB Toy designed and manufactured these scale model airplanes of the T6-Texan and L-39 jet for the "Forgotten Heroes Trust", a S.T.E.M. program honoring the aviation heroes of yesterday. Each fully decorated model plane comes individually packaged in protective plastic tray, completely assembled, and with a Display Stand as shown.
Custom 3D Bracelets:
RB Toy designed and manufactured these full color 3D vinyl Bracelets in 10 different styles. These Bracelets were rolled up and inserted into custom molded plastic Caps, randomly packed, and shipped to the customer all ready to be snapped onto their juice bottles. When the consumer purchased the juice drinks, they never knew which style of Bracelet they would be getting.
Pfizer Ad Capsules:
RB Toy designed and manufactured this fully decorated 3.5" plastic Capsule for a Pfizer promotion to advertise their Celebrex(R) medication. These Capsules were displayed in local pharmacies to be taken by consumers interested in the product. Each Capsule contained literature on the medication and its use, and was used as part of their Patient Education materials.
Tony's(R) Pizza Doll:
| | | |
| --- | --- | --- |
| | | |
| | | |
RB Toy Design worked with the Tony's Pizza Service agency to turn the 2D package artwork of their logo character Tony, into a lovable plush 3D doll in full garb. The doll is offered as a free mail-in premium with proof-of-purchase points collected when you buy Tony's(R) Pizza products. RB Toy manufactured the doll overseas under strict U.S. toy safety guidelines. Click here to see more custom character Dolls.
Tony is a trademark of Tony's Pizza Service

TM Candy Dispensers: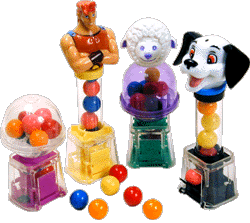 RB Toy Designed, Engineered and Sourced the overseas manufacturing of the FLIX™ candy and gumball dispensers. They come in dozens of fun licensed and seasonal characters, and some that even sing or play music when you dispense the candy or gumballs. Click here to see and learn more about Custom Designed and Manufactured Gum and Candy Dispensers.
For more information on "FLIX"(TM) click here
FLIX is a trademark of Imaginings 3, Inc.
CLIFFORD (R) Magic Memo Pads(TM):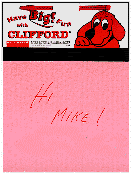 RB Toy designed and manufactured this Magic Memo Pad(TM) used as a back-to-school promotion by Scholastic. Each 6" x 9" Pad came with a child-safe "Clifford-red" plastic stylus for writing. Even the writing appears in Red!
Click here to see more Magic Memo Pads™
CLIFFORD and CLIFFORD THE BIG RED DOG are registered trademarks of Norman Birdwell. Magic Memo Pads is a trademark of RB Toy Development Co.
Bird Feeder: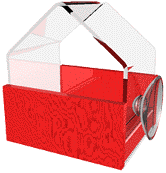 RB Toy Design, Inc. designed, engineered and manufactured the plastic canopy for this retail Bird Feeder product, for one of its client companies. Prior to this new canopy design, the company used to heat and bend strips of plastic over a form, then mounted it to the wooden base with small nails. This was a very slow and expensive process. Now all they do is snap on the one-piece molded canopy which is supplied to them by RB Toy with the suction cup attached. Their production has increased by 400 percent!


RB Toy Design, Inc., 3838 Chester Drive, Glenview, IL 60026 USA
TEL: 847-577-5683 • FAX: 847-272-4034 • E-mail: info@rbtoydesign.com
Send mail to webmaster@rbtoy.com with questions or comments about this web site.
Copyright � 1997, 1998 & 2009 RB Toy Design, Inc., All Rights Reserved
Last modified: May 30, 2019